We will solve various problems with the power of the program.
Even if it says in a word with the program, there are various construction methods depending on language and medium.
We are aiming to construct a system that is easy to use and easy to construct at the user's point of view.
We are doing not only system construction, but also system maintenance, current system renovation etc. Please feel free to contact us.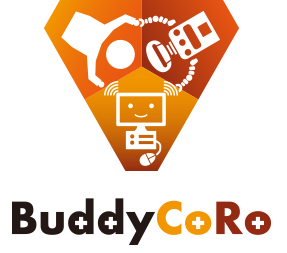 We named together buddies, computers and robots.
With the evolution of computer performance in recent years, computers are no longer just tools.
Along with Siri, Cortana, Google voice search, speech recognition and speech synthesis of devices such as cars, we are already becoming an assistant to support people from tools.
Similarly, robots are going beyond mere machine dolls, and we routinely exchange e-mail and utilize the Internet with computers and smartphones even in our daily life.
To this thing Computers and robots are not just tools and dolls, but as close friends to help human beings, they are getting closer to positioning as "buddies".
From this, "Buddy" meaning buddies and the initials of computers "Co", named "Buddy Coo" from "Ro" of robot's initials.

| | |
| --- | --- |
| Name | BuddyCoRo |
| Business contents | System development · System maintenance · WEB application development · CMS development · Online shop system development · 3D contents (material) sale |
| TEL | 075-321-8536 |
| FAX | 075-205-1708 |
| url | http://www.buddycoro.jp/ |
| E-MAIL | ishii@buddycoro.jp |